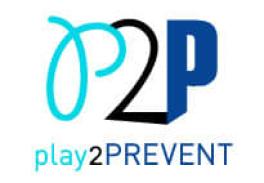 This year's DataFest challenge came from the Play2Prevent lab at the Yale Center for Health & Learning Games in the Yale School of Medicine. DataFest participants analyzed data from Elm City Stories, an educational video game designed for middle and high school students. The goal of the game was to prevent negative health outcomes in young, at-risk adolescents by helping teens to increase perception of risk and to develop skills for predicting and understanding future consequences of actions. The DataFest challenge was to characterize, measure and display patterns of play within the game that the researchers could then use to make connections to real-life behavior.
 Dates: Friday, April 1st – Sunday, April 3rd
DataFest 2022 by the Numbers
145 students participated in DataFest 2022.
DataFesters came from 24 different majors...
...and 6 different colleges at the University.
30 teams completed the weekend-long challenge,
analyzed over 1GB of video game player data,
and created video presentations that were reviewed by 11 judges made up of faculty and analytics leaders from business and industry.
32 mentors were on hand to work with DataFest participants.
Mentors included OSU faculty, graduate students and alumni, and statistics and analytics professionals from 13 organizations locally and nationally.
Winning Teams
Awards were given in four categories:
Best Insight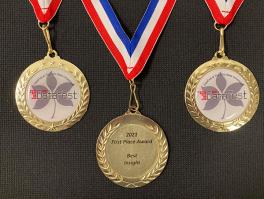 Winning team name: B&S
Zheng Wang
Qinghua Xia
Hanqi Yang
Songchen Zhang
Jiangyue Zhu
Best Visualization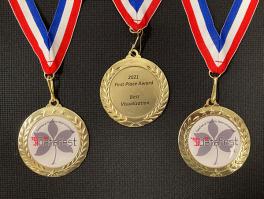 Winning team name: Team Lambda Parameter
George Balint
Connor McNeill
Ari Zeltser
Best Statistical Analysis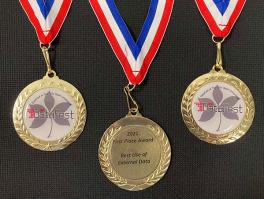 Winning team name: Null Deviance
Josh Boehm
Jacob Riedl
Andrew Song
Judges' Choice
Winning team name: Team BuckeyeData
Viren Gadkari
Ishan Gore
Izzy Nekic
Shawn Sato
Karthick Sivasubramanian
Finalists
Eight additional teams were selected as DataFest 2022 Finalists.
Team names & members
Big Data Energy: Emily Frost, Lindsay Michaels, Carly Schwartz
DataFabulous: Gabi Lowenstein, Preksha Rao, Ainsley Young
INT32: Max Baker, Eunju Chang, Yuxin Wang, Chenwei Xu, Fengzu Zou
r/DJONN: Defne Ceyhan, Naishal Patel, Neo Yu, Guiqian Zeng
Statistically Insignificant: Amanda Hsieh, Karis Li, Steven Lin, Mimi Maula, Lena Zhang
Sukiyaki: Lixi Fei, Manqing Lin, Zhixian Yan, Xiangyu Zhang, Xuanzhi Zhang
Team CAAR: Cameron Erdman, Andrew Shen, Robert Sunderhaft, Arjun Thomas
The Data Base: Paul Bordjadze, Afia Fosu, Kaylyn Jiang, Ryan Kline
Honorable Mentions
Five teams were selected by the judges to receive an Honorable Mention.
Team names & members
Data LongMing: Zhangyue Chen, Yuhao Huang, Yuchen Xie, Yu Yue, Jiashue Zhang
Girls that can do both: Caroline Eggett, Rachelle Soh, Sherry Zhou
HackerSquad: Ekum Kaur, Tae Kim, Tina Lin, Shreya Sandurkar, Alexia Scarvelli
ICU: Tian Chen, Yu Liu, Yuxiang Ren, Zelin Song, Yuting Yang
The Analytics: Tingwei Guan, Meilin Hou, Luoxin Li, Yongzhu Liang, Yahui Zhou